BUSINESS CENTER IN THE OLD MONTREAL
At the CAVM, entrepreneurs, self-employed or self-employed workers as well as the professional elite, such as lawyers and engineers, enjoy the prestige of a private office or a virtual office in the sought-after district of the Old Port of Montreal at a lower price than downtown.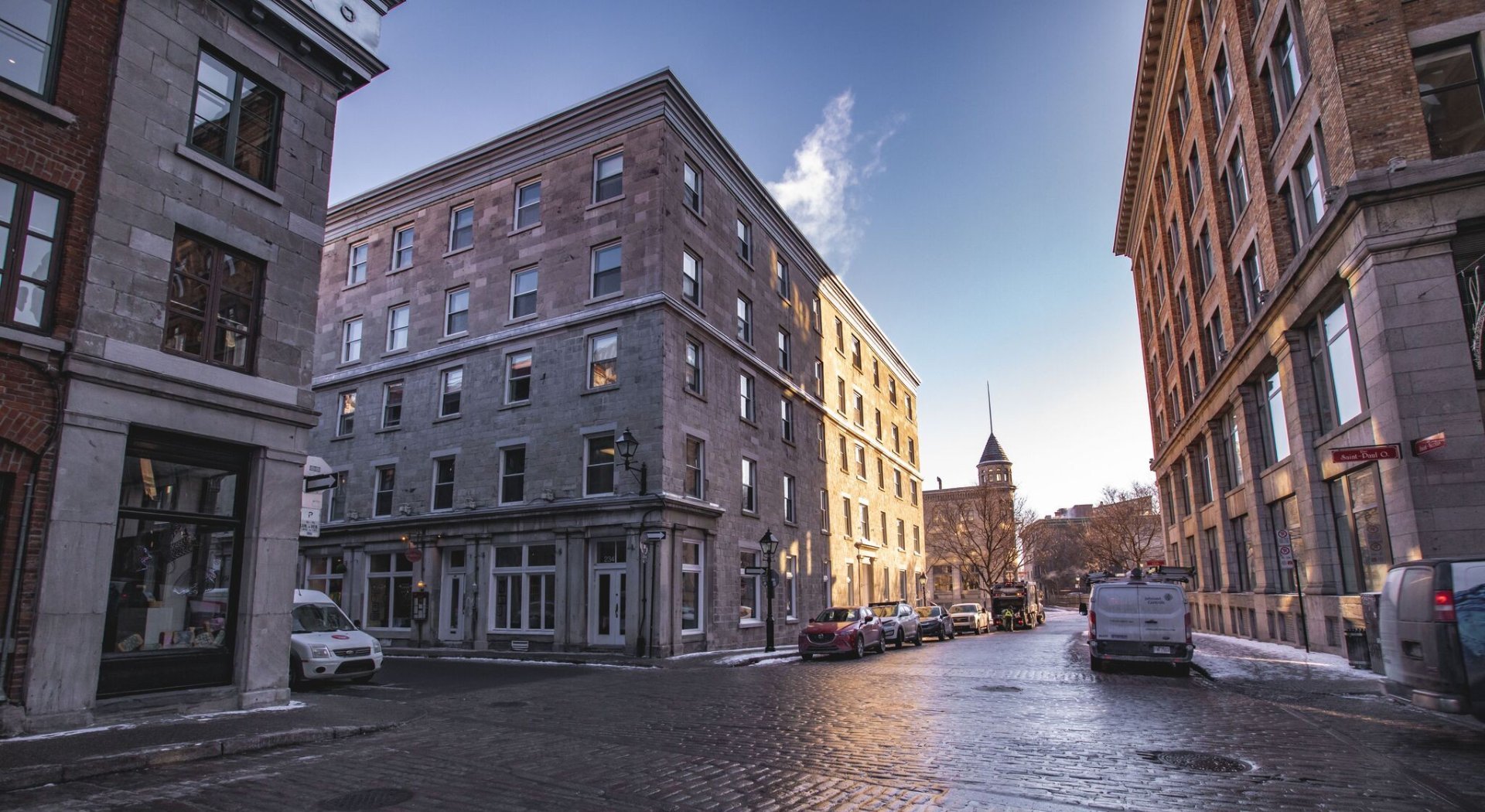 Palais des congrès
Courthouse
Place du Canada
Montreal World Trade Center
Quebec deposit and placement fund
Place Bonaventure
École de technologie supérieure (ÉTS)
Notre-Dame Basilica
Pointe-à-Callière Museum
Bota Bota, spa-sur-l'eau
Canada Post
BMO Bank of Montreal
Banque Scotia
SAQ
The Westin Montreal
Embassy Suites by Hilton
Hotel Saint-Paul
Hotel Place d'Armes
Mandy's
Olive and Gourmando
Garde-Manger
Gandhi
Gibbys
Wicked Beef
WHAT IS A BUSINESS CENTER?
A business center is a place made up of several private and closed offices of different sizes intended to be rented by the month or by the year. These workspaces are made available to companies and self-employed workers who wish to carry out their professional activities there in the short, medium or long term. These offices are furnished to accommodate tenants, who also have access to a high-speed Wifi connection, a printer and other equipment to facilitate daily life.
Steps from our business center
Very close to the CAVM, you will find renowned business establishments, renowned hotels, local shops making your daily life easier as well as fast-service restaurants perfect for a quick dinner as well as Montreal gastronomic emblems ideal for meals. business.
Why choose a business center in Montreal?
Inexpensive Business


Start-up Unlike traditional offices (where you are the only tenant), business center start-up costs are very low. You will therefore have the chance to see your business domiciled in a popular area of ​​the metropolis at a fraction of the price of a traditional office located in the same location.

No operating costs


Did you know that tenants in commercial leases have to pay additional costs, such as property taxes and operating costs, on top of their base rent? By choosing a private office at the CAVM instead, you benefit from a fixed rate, with no unpleasant surprises.
Montreal, the best location for your office in Quebec
Choosing to establish your business in the heart of Montreal, in the Ville-Marie borough, will significantly increase your credibility with your current and potential clients as well as your peers.

The metropolis is easily accessible by plane and train, facilitating meetings with clients or partners from abroad. In addition, it is served by an efficient public transport network. Finally, it has many cycle paths open and maintained even in winter, which greatly appeal to cycling enthusiasts opting for this most popular alternative mode of transport.

Montreal is internationally recognized: you will more easily reach your prospects from the rest of the world, whether you are in the field of law, finance, technology, etc.

Montreal is full of talent that could benefit your business. In addition to the thousands of immigrants looking for work, a host of university students are available to work inexpensively part-time or during summer holidays. They may assist you in some tasks, so they will be grateful if you give them the chance to gain experience in the field.
Postal address
This service includes registering your business at our postal address and a notice upon receiving your mail
Use of our postal address and mail management | 50 $
Additional services
Weekly mailing to your residential address | Mailing fees
Weekly scan of mail to e-mail | 15 $
Daily scan of mail to e-mail | 25 $
Private phone line | 50 $
CONTACT US
Fill out this form and we will answer to you within 12 hours
OR
Join Us by phone: 514-907-9016 and receive a response within 2 minutes
Why you should Contact us?
To find out about availability
In order to know our last limited promotions
Have more details on how it works
Have an answer to a specific point
Have a customized package
In order to reserve exclusively and guarantee the availability